We are blessed with a culinary heritage based on a valuable tradition of innovation that has been passed down for generations. The purpose of Iceland's Culinary Treasures is to utilize our unique cuisine to further advance domestic value creation in culinary tourism and product development. Furthermore, we aim to spread knowledge and spark interest in our ingredients and culture to bolster our self-image as a culinary nation.
We want to bring Icelanders and foreign guests to a buffet of Icelandic delicacies, to illuminate their singularity and wholesomeness and to call on the history revealed in Icelandic cuisine and culinary traditions. Culinary traditions, like languages and religions, reflect a nation's characteristics and are interwoven with nature and land. This tradition combined with increased knowledge and creative thinking has given rise to a selection of world class foods.
The Arctic's importance as a source of food will increase
Fish and agricultural products are the foundation of Iceland's reputation as a culinary country and play a significant role in sustainable development. Without food, life is impossible, and we owe our farmers and fishermen a lot for feeding the nation. Because of climate change and water shortages, agricultural production has decreased in many areas of the world and multifarious problems are to be expected around the world. The Arctic's importance as a source of food will increase in the coming years and decades.
An increasing number of visitors present an opportunity
Everyone must eat, including the foreign tourists visiting Iceland. If two million foreign tourists visit Iceland yearly, 77.000 meals are added to the nation's daily consumption; assuming each tourist stays on average for 7 days and eats two meals a day. This presents an opportunity for domestic food production.
Pride & knowlegde, price & quality
Favorable conditions allow Icelanders to produce quality food based on sustainable development, and with a united effort we can continue to improve. The discourse on Icelandic food needs to focus more on pride and knowledge. Price and quality must go hand in hand, and we need to respond to consumers' heightened quality and environmental consciousness. Local foods are in higher demand as is the need for organic cultivation, traceability, and certifications of origin.
Iceland's Culinary Treasures belongs to the Minister of Fisheries and Agriculture, and the project is funded until December 2020. The Minister of Fisheries and Agriculture bears the financial responsibility of the project and makes final decisions regarding the budget and allocation of funds based on recommendations from the project's board of directors.
The main goal of Iceland's Culinary Treasures is to strengthen our positive image as a culinary nation and to promote the uniqueness of Icelandic ingredients. Our goal is also to support projects that encourage food tourism and other professional opportunities relating to our culinary treasures around the country. Our guiding light is the UN's global goals sustainable food policy and the collaboration of industries
Members of the board are chairman Þórir Hrafnsson and Baldvin Jónasson for the Ministry of Industries and Innovation, Hólmfríður Sveinsdóttir on behalf of the Ministry of Transport and Local Government and Dagný Arnarsdóttir on behalf of the Ministry for the Environment and Natural Resources. The project's manager is Brynja Laxdal, responsible for the strategic plan and budget along with the board of directors.
Invested parties and functions form a consultative group that serves as a managing board for the Ministry and as the professional foundation that furthers the project's aims. Its members are tasked with communicating information, pointing out undeveloped opportunities and being active as experts in the media. The consultative group comprises representatives from the Federation of Icelandic Industries, the Hotel- and Restaurant School of Iceland, the Farmers Association, the Icelandic Tourist Board, the Environment Agency of Iceland, the Directorate of Health, Matís, the Icelandic Food and Veterinary Authority, the Agriculture Cluster, the Iceland Design Center, Fisheries Iceland, the Icelandic Association of Local Authorities and Promote Iceland.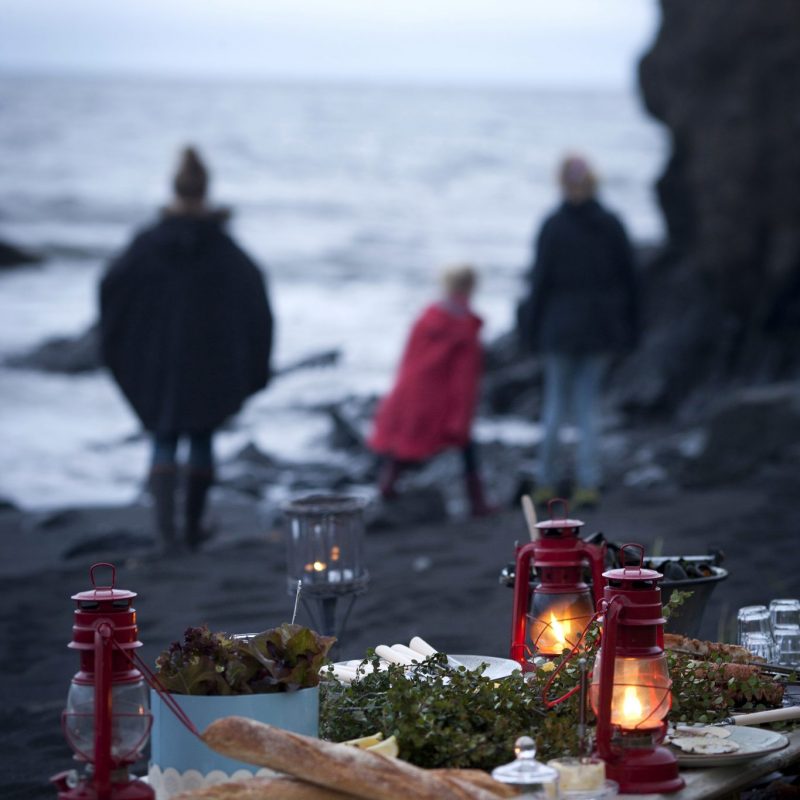 Ways to utilize the increased tourist traffic and domestic and foreign interest in culinary tourism
Boost the impact of local marketing that reflects the culinary treasures, culture, and people that feed us. Create collective marketing materials to increase visibility and foster positive discourse. Change the visual image of Icelandic cuisine presented in online media, because Icelandic food is more varied and fresher than one would think looking for pictures on the internet.
Support projects in regions that support the foundation of culinary tourism and can serve as models for other regions. Strengthen marketing, projects, and education, so culinary tourism brings in more income and preserves the knowledge of our culinary heritage.
Support projects that increase the visibility and access of consumers to local and traceable products.
Ways to utilize the increased quality and environmental consciousness of consumers to further public health
Support initiatives to improve certifications of origins and traceability.
Appoint a task force to discover opportunities for official institutions like schools and nursing homes to buy healthy Icelandic food and minimize food waste. Support projects that will serve as models for others.
Support data gathering and research that enhances the marketing of pure Icelandic ingredients.
Support actions to empower organic farming and to consider regulations on sustainable production and certifications to maximize the quality of Icelandic production.
Ways to utilize interest in product development, improvements and innovation in the food industries
Participate in collaboration between different sectors that increase value creation, support job-creating opportunities and reflect the connection of food to tourism, environment, education, and health.
Examine tight regulatory frameworks among small producers and seek to influence a more efficient regulatory environment for food producers, focusing on food crafts, quality of ingredients and services.